A cosmeceutical brand formulated, developed, and produced by Innovative Skincare.
iS Clinical is an innovative and multitasking cosmeceutical brand that offer skincare solutions with excellent benefits for all skin types, ages and genders. These result-oriented products are built on botanically derived pharmaceutcial grade ingredients and the newest technologies within anti-aging, hyperpigmentation and other common skincare concerns. Clinically proven and scientifically backed, iS Clinical holds the power to skin health.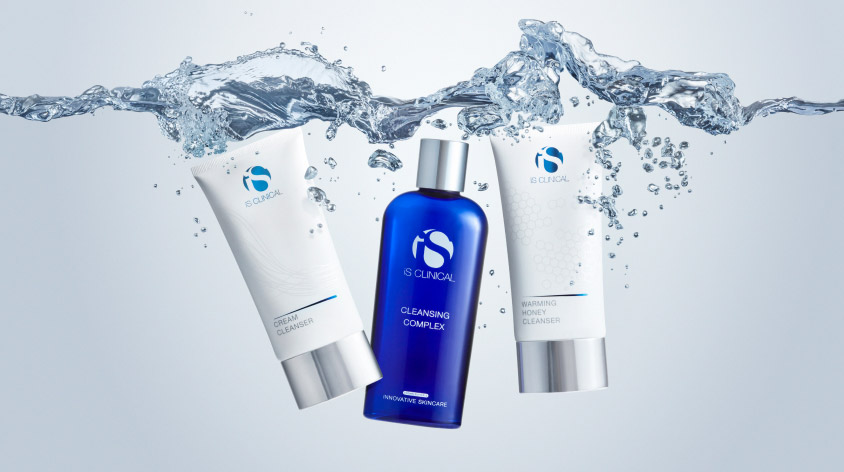 Scientifically proven results-oriented products
iS Clinical's portfolio is built on the highest purity and potency of pharmaceutcial grade ingredients (same quality as found in medication) with the vision of improving the physical and emotional well-being of people everywhere. All products are clinically tested and scientifically proven with independent peer-reviewed clinical studies on final formulations, utilizing prestigious scientific institutions from around the world. iS Clinical also offers professional treatments for in-clinic use only, allowing the portfolio to be combined with powerful and therapeutic facials. The results-oriented products from iS Clinical work the most magic when used together in a four-step regimen to CLEANSE, TREAT, HYDRATE, and PROTECT the complexion of the skin.
is vital for maintaining a clean, clear, and vibrant complexion. Our cleansers are ideal for all skin types, ages, and genders.
allows you to target specific skin concerns and conditions with potent, active botanical ingredients. Clinically powerful yet non-irritating.
replenishing and balancing the skin's moisture to maintain the feel of improved skin smoothness, firmness, and resiliency.
Formulated to not only help protect against sunburn and photoaging, but also give your skin powerful hydration and the feel of a luxurious moisturizer.
Sign up and we will contact you
If you are interested in working with us, just type in your information and we will contact you as soon as possible. Or contact our sales team for more info.
Looking forward to hearing from you.